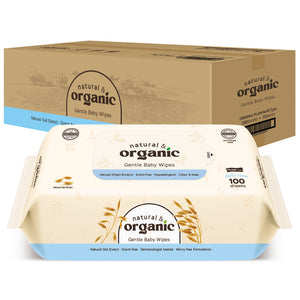 Natural Organic
Natural & Organic Daily Care Baby Wipes, Refill (100 sheets x 10 packs)
Sale price Price $26.00 Regular price $47.00 Unit price / per
Tax included.
[

Premium

 Quality]

Natural & Organic Baby Wet Wipes

The new Natural & Organic® baby wipes, carefully formulated with organic extracts to cleanse and soften you and your baby's skin. Safe to use for sensitive skin. Use it every day on the baby's delicate skin, face, mouth, and bottom for a cleaner, fresher, and smoother skin.
Suitable for newborns, babies, toddlers, sensitive skins, and safe for hand, mouth and utensils.
- Natural and Organic ingredients
- EWG Skin Deep Green Grade ingredients
- Unscented
- Free of toxic material for your skin 
- Alcohol Free 
- 8-steps purified water
- Soft Touch Plain Fabric
- Infant-friendly product
- Allergy-friendly
- Easy one-hand system (one sheet per pull)
- Antibacterial packaging
- Premium quality safe baby wipes
- Sheet dimension : 150 x 200 mm (+/- 5mm), 350g
- Plain Refill type
- 100 sheets per packs , 10 packs per box
- Made in Korea
Expired Date           : Two years shelf life to keep the product moist and fresh as it's made from natural organic. New improved packaging to keep wet wipes moist and fresh .
Your little ones' safety is our first priority. 
"You can use them without any worries about irritation, toxicity and allergy."


Why Natural & Organic Baby wipes?

♥ It is unscented and using 8-steps purified water.

♥ It is a non-toxic baby wipes as all ingredients are EWG Skin Deep Green Grade.

♥ It is a product certified as non-irritating baby wipes with Soft Touch Plain Fabric

♥ Newborn babies can also use it because it was certified as baby wipes for infants and toddlers after passing a rigorous testing on safety.

♥ Don't have to worry about harmful bacteria as it uses 99.9% antibacterial certified safe packages that attained antibacterial S mark for the first time in Korea.

Thank you for shopping at LoveSprings !!